As a wedding DJ, your job is to ensure that the music at the reception is perfect. But what can you do to make sure that you are providing the best possible service?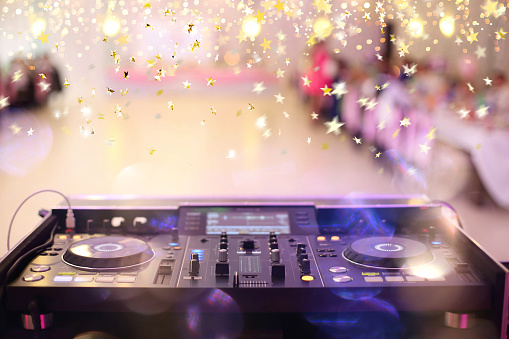 Here are eleven ways to become a better wedding DJ:
1. Understand Your Client's Needs
The first step to being a great DJ is understanding what your clients want. Talk to them before the big day to get an idea of the kind of music they would like to play. This way, you can be sure to have all the right songs and create a playlist that will keep everyone happy.
2. Have A Wide Range of Music
It's important to have a wide range of music on hand so that you can please everyone at the reception. Make sure to have a mix of old and new songs, as well as different genres. This way, there will be something for everyone to enjoy.
3. Be Prepared
Make sure that you are fully prepared for the big day by having all of your equipment ready to go. This includes having extras of everything in case something goes wrong. By being prepared, you can avoid any stressful situations on the day of the event.
4. Be Professional
It's important to remember that this is a professional event and you should act accordingly. This means dressing appropriately and being respectful to all of the guests. By behaving professionally, you will ensure that everyone has a good time.
5. Make Announcements
Throughout the reception, you will need to make announcements. This could be anything from introducing the bride and groom to letting everyone know when it's time to hit the dance floor. Be sure to make all announcements clearly and in a professional manner.
6. Play The Right Songs
Of course, one of the most important parts of your job is playing the right songs. Pay attention to what the guests are saying and take requests whenever possible. By playing the right tunes, you can keep everyone happy and ensure that they have a great time.
7. Read The Crowd
It's important to be able to read the crowd so that you know what kind of music to play. If people seem to be losing interest, change up the playlist and try something new. Paying attention to the guests will help you keep everyone engaged.
8. Be Prepared To Take Requests
One of the best ways to make sure your guests have a great time at your wedding is to be prepared to take requests. If you know what songs are popular with your crowd, you can play them without having to ask for requests. But if you're not sure, it's always a good idea to have a few request cards handy. This way, you can quickly and easily find out what your guests want to hear and play it for them.
9. Keep The Energy Up
Weddings are all about celebrating love and joy, so you must keep the energy up throughout the night. One way to do this is to make sure your music selection is upbeat and lively. Another way to keep the energy up is to interact with your guests and get them involved in the fun. If you can get everyone dancing and having a good time, your wedding will be a success.
10. Make Sure Your Equipment Is Up To Par
If you want to be a great wedding DJ, you need to make sure your equipment is up to par. This means having high-quality speakers and amplifiers, as well as a powerful laptop or computer. With the right equipment, you'll be able to provide clear and crisp sound for your guests. Additionally, you'll be able to create custom playlists that are perfect for weddings.
11. Have Fun
At the end of the day, it's important to remember that this is a party and you should be having fun. Let your personality shine through and enjoy yourself. This will make the event more enjoyable for everyone involved.
By following these tips, you can be sure that you are providing the best possible service as a wedding DJ. By understanding your client's needs, being prepared, and playing the right songs, you can ensure that everyone has a great time. So get out there and start rocking the reception!