Eyebrows are very important, not only because they help to define your face, but also because if you lack them, the facial structure is completely different.
But what happens when you have little or no eyebrow hairs? Eyebrow tattoos are a great option that will give you beautiful eyebrows in an instant.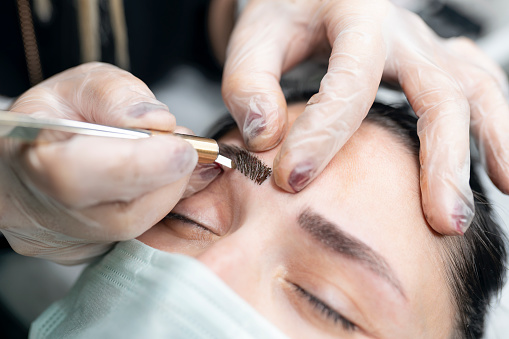 However, many women get disappointed after their first eyebrow tattoo experience because the result wasn't exactly what they had expected…
If you want to have a good understanding of the process, and what you'll be getting when you get your brows tattooed, check out these before and after photos.
The process is popular because while many women naturally have nice eyebrows, others lose their eyebrows due to stress or over-plucking. The eyebrow tattooing process involves placing pigment into the skin exactly where the eyebrow should be to restore fullness. Some people choose to get their eyebrows done to create fuller eyebrows that are completely shaped after years of overplucking.
In this post, I'm going to guide you step by step through everything involved in having your eyebrows tattoed and how much it costs.
 First: A Consultation
When you first contact a tattoo artist about getting your eyebrows done, they will likely want to meet with you for a consultation. The purpose of the consultation is to figure out exactly what kind of results you're looking for, and how much the entire process is going to cost.
Eyebrow tattoos are permanent, so if you change your mind about the shape or colour down the road, there's nothing that can be done about it.
Therefore it's important to choose an eyebrow tattoo artist wisely because once they draw on your brows, there isn't any turning back! Once you've chosen which artist you'd like to go with based on their portfolio and customer reviews, then I recommend setting up a time for them to take some pictures of your current brows to create a reference point.
Drawing on your eyebrows  
A drawing of how the artist envisions your future eyebrows will be created, and then they'll ask you if this is exactly what you want too. At this stage, you need to be honest with them about what your expectations are because they are artists, not magicians. For example, I had my eyebrow tattooed once before by someone who didn't understand my expectations.
Now I have an eyebrow that is way thicker than what I wanted, but since it's coloured in I can make do with it!
Second: Preparing Your Skin Before The Tattoo
Owning up to your mistakes    
When the tattoo process has been completed, you'll have to own up to your mistakes and tell the artist what you don't like about it. This is a crucial step in the process because if you leave that for another visit, then I can almost guarantee that it's going to be worse.
I don't think women realize just how easy it is to overpluck brows! The good news is that tattoo artists are usually able to correct any mistakes from previous work done by other tattooers.
Third: Getting The Actual Tattoo!
At this point, the colour matching begins! Here's where all those pictures come into play as well as a close examination of your skin tone. Usually, one session will do the trick, but some people may need two or three visits.
Since eyebrows are the "frames" of your face, I highly recommend doing some research on what colours will match you best before choosing a geographically convenient artist. Once the tattoo process has been completed, I promise your eyes will never look the same again!